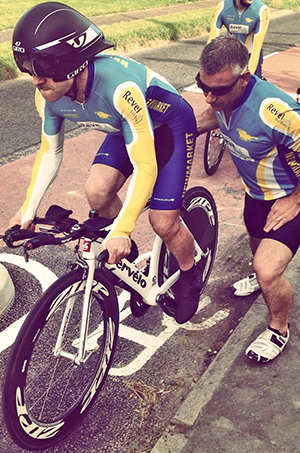 Our weekly affiliated time-trials run every Wednesday evening from 5th April until 30th August, with a timed hill climb on Sunday 10th September at 10:30am. You can view to full NCTC TT calendar here
All riders must wear an approved hard shell helmet conforming to a recognised standard. Bikes must be fitted with a working LED rear light, either flashing or constant, and secured in a position clearly visible to following road users and should be active while your machine is in use.
Be EXTRA safe, get some RoadID – A great range of wrist and ankle bands and tags that you can personalise with important emergency information. Ideal for cyclists and triathletes.
Entry fees are £2 to members (unless you paid upfront when joining the club) and £3 for non-members. Registration is limited to the first 40 riders on the night.
We operate a strict NO HELMET, NO LIGHT = NO RIDE policy – you have been warned!
Click on the dates below to see the latest time-trial results and to view your overall position in the Club TT league table. To find out how the TT league works click here.
Results from previous years can be found here – | 2015 | 2014 | 2013 | 2012 | 2011 | 2010.
Latest results – Inter Club
9th April , Bottisham E33/10 – 10 miles - Inter Club
Timekeepers: Cambridge CC
| Position | Rider | Club | Time | Speed |
| --- | --- | --- | --- | --- |
| 1 | Ralph Hancock | Team Cambridge | 24:58 | 24.03 |
| 2 | Steve Peck | NCTC | 25:21 | 23.67 |
| 3 | Jordan Black | NCTC | 25:57 | 23.12 |
| 4 | James Wood | NCTC | 26:40 | 22.50 |
| 5 | Trevor Coleman | Cambridge Tri | 26:46 | 22.42 |
| 6 | Victoria Coe | Cambridge Tri | 27:20 | 21:95 |
| 7 | Gemma Irvine | NCTC | 27:22 | 21.92 |
| 8 | Mark Gibbs | NCTC | 27:29 | 21.83 |
| 9 | Steve Laurie | Team Cambridge | 28:09 | 21.33 |
| 10 | Eric Tapley | Team Cambridge | 28:30 | 21.05 |
| 11 | Charles Tallack | Team Cambridge | 28:56 | 20.74 |
| 12 | Alex Leeson | NCTC | 28:57 | 20.73 |
| 13 | Ned Hoyle | Cambridge Tri | 29:29 | 20.35 |
| 14 | Janette Thomas | Cambridge Tri | 29:37 | 20.26 |
| 15 | Peter Millard | Team Cambridge | 30:02 | 19.98 |
| 16 | Mike Haslam | NCTC | 30:11 | 19.88 |
| 17 | Linda Hones | NCTC | 30:13 | 19.86 |
| 18 | Kevin Parker | Team Cambridge | 30:23 | 19.75 |
| 19 | Andrew Poole | Cambridge Tri | 30:30 | 19.67 |
| 20 | Christina Lankford | Cambridge Tri | 31:37 | 18.98 |
| 21 | Tristan Igglesden | Cambridge Tri | 31:43 | 18.92 |
| 22 | Ian Hawkins | NCTC | 32:10 | 18.65 |
| 23 | Paul Millard | Team Cambridge | 32:58 | 18.12 |
| 24 | Trevor Kimber | Team Cambridge | 34:38 | 17.32 |
14th June , ASHLEY B – 8.1 miles - Inter Club
Timekeepers: NCTC – Sophie Lee – Emma Sharp – Richard Newell – Colin Prewer
| Position | Rider | Club | Time | Speed |
| --- | --- | --- | --- | --- |
| 1 | Gary Hounsome | NCTC | 20:25 | 23.80 |
| 2 | Ben Wong | | 21.33 | 22:55 |
| 3 | Gareth Godfrey | NCTC | 21:49 | 22:28 |
| 4 | Jordan Black | NCTC | 22:10 | 21:92 |
| 5 | Mark Gibbs | NCTC | 22:40 | 21:44 |
| 6 | David Green | NCTC | 22:55 | 21:21 |
| 7 | Carl Davies | | 23:07 | 21:02 |
| 8 | Jon Davies | | 23:30 | 20:68 |
| =9 | Ken Parsons | NCTC | 23.31 | 20:67 |
| =9 | Trevor Coleman | Cambridge Tri | 23.31 | 20:67 |
| 11 | Glenn Fruish | NCTC | 23:52 | 20:36 |
| 12 | Angie Girgis | NCTC | 24:08 | 20:14 |
| 13 | Martin Graves | NCTC | 24:11 | 20:10 |
| 14 | Charles Tallack | Team Cambridge | 24:26 | 19:89 |
| 15 | Wayne Owen | NCTC | 24:29 | 19:85 |
| 16 | David Lines | | 25:37 | 18:97 |
| 17 | Linda Hones | NCTC | 26:19 | 18:47 |
| 18 | Alison Stewart | NCTC | 28:01 | 17:35 |
| 19 | Sara Brown | NCTC | 31:58 | 15:20 |
| 20 | Ralph Hancock | Team Cambridge | 35:32 | 13:68 |
| 21 | Eric Tapley | Team Cambridge | DNF | DNF |
Latest results – NC&TC Club TT
05th April , Fordham – 5.1 miles
Timekeepers: Alex Leeson – Andy Peacock
Timekeepers: Richard Newall
| Position | Rider | Time | Speed |
| --- | --- | --- | --- |
| 1 | James Tucker | 10.48 | 28.33 |
| 2 | Gary Hounsome | 11.56 | 25.64 |
| 3 | Michael Ritchie | 12.07 | 25.25 |
| 4 | Steve Peck | 12.21 | 24.78 |
| 5 | Andy Sewell | 12.24 | 24.68 |
| 6 | Owen Wilson | 12.33 | 24.38 |
| 7 | Eugene Husband | 12.36 | 24.29 |
| 8 | Jordan Black | 12.40 | 24.16 |
| 9 | James Wood | 12.58 | 23.60 |
| 10 | Steve Dickens | 13.03 | 23.45 |
| 11 | Alison Holmes | 13.06 | 23.36 |
| 12 | Mark Gibbs | 13.18 | 23.01 |
| 13 | David Green | 13.20 | 22.95 |
| =14 | Joe Richer | 13.31 | 22.64 |
| =14 | Charlotte Smith | 13.31 | 22.64 |
| 16 | Jon Davies | 13.35 | 22.53 |
| 17 | Gemma Irvine | 13.42 | 22.34 |
| 18 | Keith McCarthy | 13.46 | 22.23 |
| 19 | Jim Greenwood | 14.10 | 21.60 |
| 20 | Trevor Lloyd | 14.20 | 21.35 |
| 21 | Bob Jones | 14.21 | 21.32 |
| 22 | Daniel Tee | 14.40 | 20.86 |
| 23 | Ken Parsons | 14.46 | 20.72 |
| 24 | Richard Drew | 15.04 | 20.31 |
| =25 | Linda Hones | 15.10 | 20.18 |
| =25 | Adrian Turner | 15.10 | 20.18 |
| 27 | Andy Tozer | 15.26 | 19.83 |
| 28 | Colin Wilkinson | 15.59 | 19.14 |
12th April , Red Lodge – 9 miles
Timekeepers: Alex Leeson – Richard Newell – Andy Peacock
| Position | Rider | Time | Speed |
| --- | --- | --- | --- |
| 1 | James Tucker | 18.37 | 28.68 |
| 2 | Simon Smith | 22:20 | 23.91 |
| 3 | Owen Wilson | 22:43 | 23:51 |
| 4 | Jordan Black | 22:52 | 23.35 |
| 5 | Ben Mickleburgh | 22:57 | 23.27 |
| 6 | James Lambton | 23:09 | 23.07 |
| 7 | Steve Dickens | 23:27 | 22:77 |
| 8 | Peter Williams | 23:36 | 22:63 |
| 9 | James Wood | 23:40 | 22:56 |
| 10 | Jon Davis | 23:53 | 22:36 |
| 11 | Keith McCarthy | 24:36 | 21:71 |
| 12 | Gemma Irvine | 24:56 | 21:42 |
| 13 | Mark Hayward | 25:00 | 21:36 |
| 14 | Gareth Godfrey | 25:08 | 21:25 |
| 15 | Angie Joiner-Hardy | 25:11 | 21:20 |
| 16 | Charlotte Smith | 25:13 | 21:18 |
| 17 | Lloyd Bacon | 25:25 | 21:01 |
| 18 | Jim Greenwood | 25:55 | 20:60 |
| 19 | Bob Jones | 26:38 | 20:05 |
| 20 | Linda Hones | 27:03 | 19:74 |
| 21 | Ken Parsons | 27:11 | 19:64 |
| 22 | Glenn Fruish | 27:49 | 19:02 |
| 23 | Colin Wilkinson | 28:29 | 18:75 |
| 24 | Colin Warn | 28:33 | 18:45 |
19th April , Ashley B – 8.1 miles
Timekeepers: Emma Sharp – Ken Parsons – Richard Newell
| Position | Rider | Time | Speed |
| --- | --- | --- | --- |
| 1 | James Tucker | 17:56 | 27.10 |
| 2 | Jason Bouttell | 18:03 | 26.93 |
| 3 | Gary Hounsome | 20:51 | 23.31 |
| 4 | Jordan Black | 22:23 | 21.71 |
| 5 | Rich Sherman | 22:49 | 21.30 |
| 6 | Gareth Godfrey | 23:07 | 21.02 |
| 7 | Gemma Irvine | 23:31 | 20:67 |
| 8 | David Lines | 25:24 | 19:13 |
| 9 | Glenn Fruish | 25:31 | 19:05 |
| 10 | Sophie Lee | 26:13 | 18:54 |
| 11 | Andy Tozer | 26:15 | 18:51 |
| 12 | Jackie Henley | 29:19 | 16:58 |
| 13 | Sara Brown | 32:58 | 14:74 |
| 14 | Ben Wong | DNF | DNF |
26th April , Fordham – 5.1 miles
Timekeepers: Tracy Husband – Mick Lowther – Ken Parsons
| Position | Rider | Time | Speed |
| --- | --- | --- | --- |
| 1 | Gary Hounsome | 12.03 | 25.39 |
| 2 | Michael Ritchie | 12.05 | 25.32 |
| 3 | Jordan Black | 12.31 | 24.45 |
| 4 | Mark Gibbs | 13.02 | 23.48 |
| 5 | Gemma Irvine | 13.42 | 22.34 |
| 6 | Charlotte Smith | 14.02 | 21.81 |
| 7 | Lloyd Bacon | 14.03 | 21.78 |
| 8 | David Cordner | 14.13 | 21.52 |
| 9 | Daniel Tee | 14.19 | 21.37 |
| 10 | Alex Leeson | 14.30 | 21.10 |
| 11 | Glenn Fruish | 14.31 | 21.08 |
| 12 | Sophie Miller | 14.47 | 20.70 |
| 13 | Ian Storey | 15.08 | 20.22 |
| 14 | Malcolm Daines-Smith | 15.21 | 19.93 |
| 15 | Jackie Henley | 17.47 | 17.21 |
| 16 | Sara Brown | 18.53 | 16.20 |
3rd May , Ashley B – 8.1 miles
Timekeepers: Ken Parsons – Keith McCarthy – Richard Newell
| Position | Rider | Time | Speed |
| --- | --- | --- | --- |
| 1 | Michael Ritchie | 20:37 | 23.57 |
| 2 | Gary Hounsome | 21.09 | 22.98 |
| 3 | Matt Meek | 21:18 | 22.82 |
| 4 | Jordan Black | 21:36 | 22.50 |
| 5 | Mark Gibbs | 23:01 | 21.12 |
| 6 | David Cordner | 24:01 | 20.24 |
| 7 | Alex Leeson | 24:32 | 19:81 |
| 8 | Glenn Fruish | 25:49 | 18:83 |
| 9 | Alison Stewart | 30:55 | 15:72 |
| 10 | Sara Brown | 34:24 | 14:13 |
10th May , Red Lodge – 9 miles
Timekeepers: Ken Parsons – Gemma Irvine – Richard Newell
| Position | Rider | Time | Speed |
| --- | --- | --- | --- |
| 1 | James Tucker | 18.53 | 28.28 |
| 2 | Max Sahota | 19:52 | 26.88 |
| 3 | Andy Sewell | 20:12 | 26:44 |
| 4 | Matt Meek | 21:12 | 25.19 |
| 5 | Gary Hounsome | 21:16 | 25.11 |
| 6 | Ben Mickleburgh | 21:22 | 25.21 |
| 7 | Jordan Black | 21:55 | 24.37 |
| 8 | James Wood | 22:48 | 23.42 |
| 9 | Tom Sykes | 23:47 | 22:45 |
| 10 | Mark Gibbs | 23:51 | 22:39 |
| 11 | David Green | 23:56 | 22:31 |
| 12 | Charlotte Smith | 24:13 | 22:05 |
| 13 | Lloyd Bacon | 24:21 | 21:93 |
| 14 | Keith McCarthy | 24:39 | 21:66 |
| 15 | Martin Graves | 24:51 | 21:49 |
| 16 | Glenn Fruish | 25:07 | 21:26 |
| 17 | Alex Leeson | 25:17 | 21:12 |
| 18 | Jim Greenwood | 25:35 | 20:87 |
| 19 | Trevor Lloyd | 25:42 | 20:78 |
| 20 | Sophie Lee | 25:46 | 20:72 |
| 21 | Andy Tozer | 26:13 | 20:37 |
| 22 | Adrian Turner | 26:47 | 19:94 |
| 23 | Neil Payne | 26:54 | 19:85 |
| 24 | Malk Sahota | 29:48 | 17:92 |
| 25 | Sara Brown | 32:58 | 16:20 |
| 26 | John Beardsworth | DNF | DNF |
| 27 | Andy Peacock | DNF | DNF |
24th May, Fordham – 5.1 miles
Timekeepers: Mark Gibbs – Robin Millar – Dave Goodwin
| Position | Rider | Time | Speed |
| --- | --- | --- | --- |
| 1 | Andy Sewell | 11.06 | 27.57 |
| 2 | Gary Hounsome | 11.37 | 26.34 |
| 3 | Jordan Black | 12.13 | 25.05 |
| 4 | Gordon Irvine | 12.25 | 26.64 |
| =5 | David Green | 13.08 | 23.30 |
| =5 | Jon Davies | 13.08 | 23.30 |
| 7 | Daniel Blocksage | 13.19 | 22:98 |
| 8 | Glenn Fruish | 13.33 | 22:58 |
| 9 | Lee Dickinson | 13.35 | 22:53 |
| 10 | Maxine Lane | 13.36 | 22:50 |
| 11 | Martin Graves | 13.39 | 22.42 |
| 12 | Alex Leeson | 13.42 | 22.34 |
| 13 | Ken Parsons | 13.43 | 22.31 |
| 14 | Carl Davies | 13.48 | 22.17 |
| 15 | Mick Lowther | 13.49 | 22.15 |
| 16 | Sophie Lee | 13.50 | 22.12 |
| 17 | Dan Tee | 13.51 | 22.09 |
| 18 | Jim Greenwood | 14.01 | 21.83 |
| 19 | Trevor Lloyd | 14.09 | 21.63 |
| 20 | Ian Storey | 14.10 | 21.60 |
| 21 | Adrian Turner | 14.35 | 20.98 |
| 22 | Dave Waters | 15.18 | 20.00 |
| 23 | Andy Peacock | 15.29 | 19:76 |
| 24 | Sara Brown | 19.08 | 15:99 |
31st May , Ashley B – 8.1 miles
Timekeepers: Emma Sharp – Jorden Black
Timekeepers: Richard Newell
| Position | Rider | Time | Speed |
| --- | --- | --- | --- |
| 1 | Gary Hounsome | 20:29 | 23.73 |
| 2 | Ben Mickleburgh | 20:38 | 23.55 |
| 3 | Simon Smith | 21:30 | 22.60 |
| 4 | Rob Speers | 22:00 | 22.09 |
| 5 | Bruce Smart | 22:04 | 22.02 |
| 6 | Gareth Godfrey | 22:32 | 21.57 |
| 7 | Carl Davies | 23:11 | 20:93 |
| 8 | Gemma Irvine | 23:24 | 20:77 |
| 9 | Jon Davies | 23:31 | 20:67 |
| 10 | Mark Gibbs | 23:32 | 20:65 |
| 11 | Charlotte Smith | 23:35 | 20:61 |
| 12 | David Cordner | 23:38 | 20:56 |
| 13 | Glenn Fruish | 23:52 | 20:36 |
| 14 | Ken Parsons | 23:54 | 20:33 |
| 15 | Keith McCarthy | 24:01 | 20:24 |
| 16 | Alex Leeson | 24:23 | 19:93 |
| 17 | Joe Richer | 24:56 | 19:49 |
| 18 | Ian Storey | 25:53 | 18:78 |
| 19 | Andy Peacock | 28:14 | 17:21 |
| 20 | Alison Stewart | 29:34 | 16:44 |
| 21 | Sara Brown | 32:25 | 14:99 |
| 22 | Jackie Henley | DNF | DNF |
7th June , Red Lodge – 9 miles - 2up
Timekeepers: Peter Williams – Robin Millar – Richard Newell
| Position | Rider | Time | Speed |
| --- | --- | --- | --- |
| 1 | Paul Flack – Mark Webb | 23.04 | 23.41 |
| 2 | Mark Gibbs – David Green | 23.40 | 22.82 |
| 3 | Keith McCarthy – Ken Parsons | 24.05 | 22.42 |
| 4 | John Davies – Carl Davies | 24.06 | 22.41 |
| 5 | Alex Leeson – Daniel Tee | 24.36 | 21.95 |
| 6 | Leigh Harvey – Ben Mickleburgh | 25.31 | 21.16 |
| 1 | Max Sahota | 20.01 | 26.98 |
| 2 | Gary Hounsome | 21.37 | 24.98 |
| 3 | Jordan Black | 22.07 | 24.42 |
| 4 | Dan Blocksage | 24.22 | 22.16 |
| 5 | Maxine Lane | 26.14 | 20.58 |
| 6 | Andy Tozer | 26.43 | 20.21 |
| 7 | David Waters | 28.03 | 19.25 |
21st June , Red Lodge - 25 miles
Timekeepers: Andy Tozer – Alison Stewart – Emma Sharp – Richard Newell
| Position | Rider | Time | Speed |
| --- | --- | --- | --- |
| 1 | Andy Sewell | 58:29 | 25:65 |
| 2 | Matt Meek | 59:33 | 25:19 |
| 3 | Gary Hounsome | 59:56 | 25:03 |
| 4 | Simon Smith | 1:01:37 | 24.34 |
| 5 | Eugene Husband | 1:02:10 | 24.13 |
| 6 | John Beardsworth | 1:02:52 | 23.86 |
| 7 | Jordan Black | 1:03:21 | 23:68 |
| 8 | Mark Hayward | 1:04:46 | 23:16 |
| 9 | Daniel Ward | 1:05:37 | 22:86 |
| 10 | Robert Fincham | 1:05:55 | 22:76 |
| 11 | Steve Dickens | 1:06:28 | 22:57 |
| 12 | Mark Gibbs | 1:07:07 | 22:35 |
| 13 | John Davies | 1:07:35 | 22:19 |
| 14 | Gemma Irvine | 1:07:38 | 22:18 |
| =15 | Gareth Godfrey | 1:08:35 | 21:87 |
| =15 | Charlotte Smith | 1:08:35 | 21:87 |
| 17 | Ken Parsons | 1:09:40 | 21:53 |
| 18 | Keith McCarthy | 1:09:48 | 21:49 |
| 19 | Carl Davies | 1:10:36 | 21:25 |
| 20 | Alex Leeson | 1:12:48 | 20:60 |
| 21 | Glenn Fruish | 1:13:36 | 20:38 |
| 22 | Ian Storey | 1:14:33 | 20:12 |
| 23 | Sophie Lee | 1:14:34 | 20:12 |
| 24 | Gary Malliband | 1:15:53 | 19:77 |
| 25 | Jake Woolf | 1:17:20 | 19:40 |
| 26 | Jackie Henley | 1:26:11 | 17:40 |
| 27 | Sara Brown | 1:31:56 | 16:32 |
28th June , Fordham – 5.1 miles
Timekeepers: Jake Woolf – Gareth Godfrey – Richard Newell
| Position | Rider | Time | Speed |
| --- | --- | --- | --- |
| 1 | Gary Hounsome | 11.36 | 26.38 |
| 2 | Jordan Black | 12.00 | 25.50 |
| 3 | Mark Gibbs | 13.03 | 23.45 |
| 4 | Carl Davies | 13.27 | 22.75 |
| 5 | Jon Davies | 13.37 | 22.47 |
| 6 | Glenn Fruish | 13.41 | 22.36 |
| 7 | Ken Parsons | 13.57 | 21:94 |
| 8 | Reuben Smith | 14.13 | 21:52 |
| 9 | Alex Leeson | 14.46 | 20:72 |
| 10 | Emma Sharp | 15.29 | 19:76 |
| 11 | Sara Brown | 18.28 | 16.57 |
5th July , Ashley A BS/34 – 11/22 miles
Timekeepers: David Green – Ian Storey – Richard Newell – Mark Gibbs
| Position | Rider | Time | Speed |
| --- | --- | --- | --- |
| | 2 – Laps 22 Miles | | |
| 1 | Lee Woodcock | 53:01 | 24:90 |
| 2 | Jordan Black | 58:29 | 22:57 |
| 3 | Gareth Godfrey | 60:19 | 21:88 |
| 4 | Charlotte Smith | 62:30 | 21:12 |
| 6 | Ken Parsons | 64:20 | 20.52 |
| 7 | David Cordner | 64:34 | 20.44 |
| 8 | Keith McCarthy | 66:02 | 19.99 |
| 9 | Alex Leeson | 69:34 | 18:97 |
| | 1 – Lap 11 Miles | | |
| 1 | Carl Davies | 30:37 | 21:56 |
| 2 | Andy Bathe | 31:04 | 21:24 |
| 3 | Maxine Lane | 31:53 | 20:70 |
| 4 | Glenn Fruish | 32:04 | 20:58 |
| 5 | Wayne Owen | 32:47 | 20:13 |
| 6 | David Lines | 34:46 | 18:98 |
| 7 | David Waters | 35:07 | 18:79 |
| 8 | Sophie Lee | 36:27 | 18:11 |
| 9 | Alison Stewart | 36:47 | 17:94 |
| 10 | Sara Brown | 46:05 | 13:32 |
12th July , Red Lodge - 9/18 miles
Timekeepers: Emma Sharp – James Wood – Richard Newell
| Position | Rider | Time | Speed | Lap 1 | Lap 2 |
| --- | --- | --- | --- | --- | --- |
| | 2 Laps – 18 miles | | | | |
| 1 | Andy Sewell | 41.19 | 26.14 | 20:25 | 20:54 |
| 2 | Paul Jay | 41.30 | 26.02 | 20.42 | 20:48 |
| 3 | Lee Woodcock | 41.48 | 25.84 | 20:36 | 21:12 |
| 4 | Simon Smith | 43.41 | 24.75 | 21:43 | 21:58 |
| 5 | Jordan Black | 44.27 | 24.3 | 22:02 | 22:25 |
| 6 | Gareth Godfrey | 46.27 | 23.25 | 22:46 | 23:41 |
| 7 | Mark Haywood | 46.55 | 23.02 | 23:09 | 23:45 |
| 8 | Charlotte Smith | 48.09 | 22.43 | 23:51 | 24:18 |
| 9 | Gemma Irvine | 49.36 | 21.77 | 24:36 | 25:00 |
| 10 | David Cordner | 50.39 | 21.39 | 24:08 | 26:31 |
| 11 | Gary Milliband | 51.59 | 20.78 | 25:43 | 26:13 |
| | 1 Lap – 9 miles | | | | |
| 12 | Andy Bathe | 23.03 | 23.43 | | |
| 13 | Carl Davies | 23.05 | 23.39 | | |
| 14 | Jon Davies | 23.35 | 22.90 | | |
| 15 | Glenn Fruish | 24.00 | 22.50 | | |
| 16 | Keith McCarthy | 24.05 | 22.42 | | |
| 18 | Sophie Lee | 25.22 | 21.29 | | |
| 20 | Sarah Osborne | 26.49 | 20.14 | | |
| 22 | Jose Garcia | 27.04 | 19.95 | | |
| 24 | Sara Brown | 32.01 | 16.87 | | |
19th July , Ashley BS/36 – 21 miles
Timekeepers: Ken Parsons – Keith McCarthy – Richard Newell
| Position | Rider | Time | Speed |
| --- | --- | --- | --- |
| 1 | Matt Meek | 51:08 | 24:64 |
| 2 | Paul Jay | 51:33 | 24:44 |
| 3 | Simon Smith | 54:01 | 23:33 |
| 4 | John Beardworthy | 54:40 | 23.05 |
| 5 | Gareth Godfrey | 56:15 | 22.40 |
| 6 | Rob Speers | 56:58 | 22.12 |
| 7 | Carl Davies | 57:41 | 21:84 |
| 8 | Mark Gibbs | 58:01 | 21:73 |
| 9 | James Wood | 59:02 | 21:34 |
| 10 | Charlotte Smith | 59:11 | 21:29 |
| 11 | Jon Davies | 59:13 | 21:28 |
| 12 | David Green | 59:18 | 21:25 |
| 13 | Steve Dickens | 59:48 | 21:07 |
| 14 | Mark Haywood | 62:06 | 20:29 |
| 15 | David Worrall | 63:46 | 19:76 |
| 16 | Glenn Fruish | 63:52 | 19:73 |
| 17 | Ian Storey | 68:09 | 18:49 |
| 18 | Jackie Henley | 75:36 | 16:67 |
| 19 | Ian Day | DNF | DNF |
| 20 | Sara Brown | DNF | DNF |
26th July , Fordham – 5.1 miles
Timekeepers: Glenn Fruish – David Green – Richard Newell
| Position | Rider | Time | Speed |
| --- | --- | --- | --- |
| 1 | Jason Bouttell | 10.46 | 28.42 |
| 2 | Andy Sewell | 12.35 | 24.32 |
| 3 | Gary Hounsome | 12.41 | 24.13 |
| 4 | Jordan Black | 12.43 | 24.06 |
| 5 | James Wood | 12.52 | 23.78 |
| 6 | Mark Gibbs | 13.15 | 23.09 |
| 7 | David Cordner | 13.30 | 22:67 |
| 8 | Jon Davies | 13.54 | 22:01 |
| 9 | Carl Davies | 13.55 | 21:99 |
| =10 | Ken Parsons | 14.32 | 21:06 |
| =10 | Ruben Smith | 14.32 | 21:06 |
| 12 | Owen Bentley | 14.43 | 20:79 |
| 13 | Trevor Lloyd | 14.58 | 20:45 |
| 14 | Adrian Turner | 15.02 | 20:35 |
| 15 | Alex Cooper | 16.57 | 18:05 |
| 16 | Alison Stewart | 17.05 | 17:91 |
| 17 | Sara Brown | 19.04 | 16:05 |
2nd August , Ashley B – 8 miles
Timekeepers: Jordan Black – Ian Storey – Richard Newell
| Position | Rider | Time | Speed |
| --- | --- | --- | --- |
| 1 | Matt Meek | 19.57 | 24.06 |
| 2 | Carl Davies | 23.05 | 20.79 |
| 3 | David Green | 23.09 | 20.73 |
| 4 | Jon Davies | 24.07 | 19.90 |
| 5 | Glenn Fruish | 24.25 | 19.66 |
| 6 | David Cordner | 24.51 | 19.32 |
| 7 | Ken Parsons | 25.10 | 19.07 |
| 8 | Alex Leeson | 26.16 | 18.27 |
| 9 | Sara Brown | 35.36 | 13:48 |
16th August , Ashley A – 11 miles
Timekeepers: Jackie Henley – Julie Burkin – Richard Newell
| Position | Rider | Time | Speed |
| --- | --- | --- | --- |
| 1 | Matt Smith | 23.17 | 28.35 |
| 2 | Max Sahota | 26.00 | 25.38 |
| 3 | Matt Meek | 26.36 | 24.81 |
| 4 | Ian Day | 27.21 | 24.13 |
| =5 | James Wood | 28.50 | 22.89 |
| =5 | Jordan Black | 28.50 | 22.89 |
| 7 | Gareth Godfrey | 29.24 | 22.45 |
| 8 | Charlotte Smith | 30.29 | 21.65 |
| 9 | Mark Gibbs | 30.53 | 21.37 |
| 10 | Carl Davies | 30.56 | 21.34 |
| 11 | Gemma Irvine | 31.31 | 20.94 |
| 12 | Ken Parsons | 32.01 | 20.61 |
| 13 | Jon Davies | 32.36 | 20.25 |
| 14 | Maxine Lane | 32.49 | 20.11 |
| 15 | Glenn Fruish | 32.58 | 20.02 |
| 16 | Alex Leeson | 33.20 | 19.80 |
| 17 | David Waters | 34.10 | 19.32 |